Kecemasan Sosial pada Remaja yang Mengalami Perundungan di Desa Ragajaya
Evin Novianti

Program Studi Keperawatan, Fakultas Ilmu Kesehatan, Universitas Pembangunan Nasional Veteran Jakarta

Insyafiatul Aminah

Program Studi Keperawatan, Fakultas Ilmu Kesehatan, Universitas Pembangunan Nasional Veteran Jakarta

Duma Lumban Tobing

Program Studi Keperawatan, Fakultas Ilmu Kesehatan, Universitas Pembangunan Nasional Veteran Jakarta
Keywords:
Bullying, Kecemasan sosial, Remaja, Adolescents, Social anxiety
Abstract
Abstrak
Latar belakang: Kecemasan sosial sebagai faktor yang dapat menyebabkan remaja menarik diri dari pergaulan. Penyebabnya adalah rasa takut yang muncul sebagai dampak perlakuan bullying dari teman sebaya. Tujuan penelitian ini adalah mengetahui gambaran kecemasan sosial pada remaja yang mengalami bullying.
Metode: Penelitian deskriptif melalui survei dengan jumlah sampel 85 responden diambil secara purposive sampling pada remaja dengan pengalaman perundungan di Desa Ragajaya. Pengambilan data dilakukan selama 4 bulan pada tahun 2021 melalui wawancara. Kuesioner yang digunakan yaitu Liebowitz Social Anxiety Scale (LSAS).
Hasil: Hasil penelitian didominasi dengan kecemasan sosial tinggi sebesar 45,9% dan 30,6% adalah kecemasan sedang. Kecemasan sosial lebih banyak dialami oleh perempuan dibandingkan laki-laki. Sumber cemas terbesar adalah karena ketidakcocokan dengan teman akibat perilaku buruk yang diterima sebesar 56,5%.
Kesimpulan: Hal ini menunjukkan bahwa kecemasan sosial pada remaja yang pernah mengalami perundungan cukup tinggi dan perlu ditindaklanjuti. Rekomendasi penelitian bermanfaat bagi perawat jiwa di komunitas dalam memberikan upaya preventif kepada remaja dengan pengalaman bullying.
Kata Kunci: Bullying, Kecemasan Sosial, Remaja
Abstract
Background: Social anxiety is a factor that can cause adolescents to withdraw from society. The reason is the fear that arises as a result of peer bullying. The purpose of this research was to know the description of social anxiety in adolescents who experience bullying.
Methods: Descriptive research through a survey with a total sample of 85 respondents was taken by purposive sampling on adolescents with bullying experiences in Ragajaya Village. Data collection was carried out for 4 months in 2021 through interviews. The questionnaire used is the Liebowitz Social Anxiety Scale (LSAS).
Results: The results of the study were dominated by high social anxiety at 45.9% and 30.6% were moderate anxiety. Social anxiety is experienced more by women than men. The biggest source of anxiety was incompatibility with friends due to bad behavior received by 56.5%.
Conclusion: This showed that social anxiety in adolescents who have experienced bullying was relatively high and needs to be followed up. Research recommendations are useful for psychiatric nurses in the community in providing preventive measures for adolescents with bullying experiences
Keywords: Adolescents, Bullying, Social anxiety
References
Junita J, Mamesah M, Hidayat DR. Kondisi Emosi Pelaku Bullying. Insight J Bimbing Konseling. 2015;4(2):57.
Setyowati WE. Hubungan Antara Perilaku Bullying ( Korban Bullying ) Dengan Kemampuan Interaksi Sosial Pada Remaja SMA. Proceeding Unissula Nurs Conf Nurse Roles Provid Spirit Care Hosp Acad Community. 2018;17:174–9.
Katyana W. Buku Panduan Melawan Bullying. Nuha Med. 2019;11–8.
Prabhakara G. Health Statistics (Health Information System). Short Textbook of Preventive and Social Medicine. 2010. 28–28 hal.
Vriends N, M., C. P, P. N, J. H. Taijin kyofusho and social anxiety and their clinical relevance in Indonesia and Switzerland. Front Psychol. 2013;4(3).
S. MY. Cognitive Risk Factors Predicting Social Anxiety among Indonesian Adolescents. ANIMA Indones Psychol J. 2019;34(2):85–92.
Badriyah S, Sugiharto DYP, Purwanto E. Efektivitas Konseling Kelompok Dengan Teknik Thought Stopping Untuk Meredukasi Kecemasan Sosial Siswa. Jurnal Fokus Konseling. J Fokus Konseling. 2020;6(1).
Heimberg RG, Liebowitz MR, Hope DA, Franklin R Echneier. Social Phobia : Diagnosis, Assessment, and Treatment. New York: The Guilford Press; 1995.
Suryaningrum C, Sofia R, Helmi FA, Nida UH. The development of the Indonesian college student social anxiety scale. Int J Res Stud Psychol. 2019;8(1):1–13.
Baker SL, Heinrichs N, Kim HJ, Hofmann SG. The Liebowitz social anxiety scale as a self-report instrument: a preliminary psychometric analysis. Behaviour Research. Behav Res Ther [Internet]. 2002;40(6):7001–715. Tersedia pada: https://doi.org/https://doi.org/10.1016/S0005-7967(01)00060-2
Hasanah CDU, Ambarini TK. Hubungan Faktor Trauma Masa Lalu dengan Status Mental Beresiko Gangguan Psikosis Pada Remaja Akhir di DKI Jakarta. Insa J Psikol dan Kesehat Ment. 2018;3(2):73.
Marcellyna C. Hubungan Antara Tingkat Kecemasan Sosial Dengan Kuantitas Merokok Pada Remaja Akhir. Universitas Sanata Dharma Yogyakarta; 2017.
La AG, Lopez N. Social Anxiety Among Adolescents: With Peer Relation And Friendship. J Abdnormal Child Pyschology. 1998;12(2):83–94.
N J, Laakonen, P N, Ranta K. Modeling the Interrelations of Adolescent, Loneliness, Social Anxiety and Social Phobia. Cent Learn Reseach. 2010;8.
Zakiyah. Faktor yang Mempengaruhi Remaja Dalam Melakukan Bullying. J Penelit PPM. 2017;4(2).
Philip T. S, Williams HA-, Michael J. L. Associations between types of involvement in bullying, friendship and mental healt status. Emot Behav Difficulties. 2021;17(3–4):259–72.
Kholifah N. Peran Teman Sebaya dan Kecemasan Sosial Pada Remaja. J Psikol. 2016;3(2):60–8.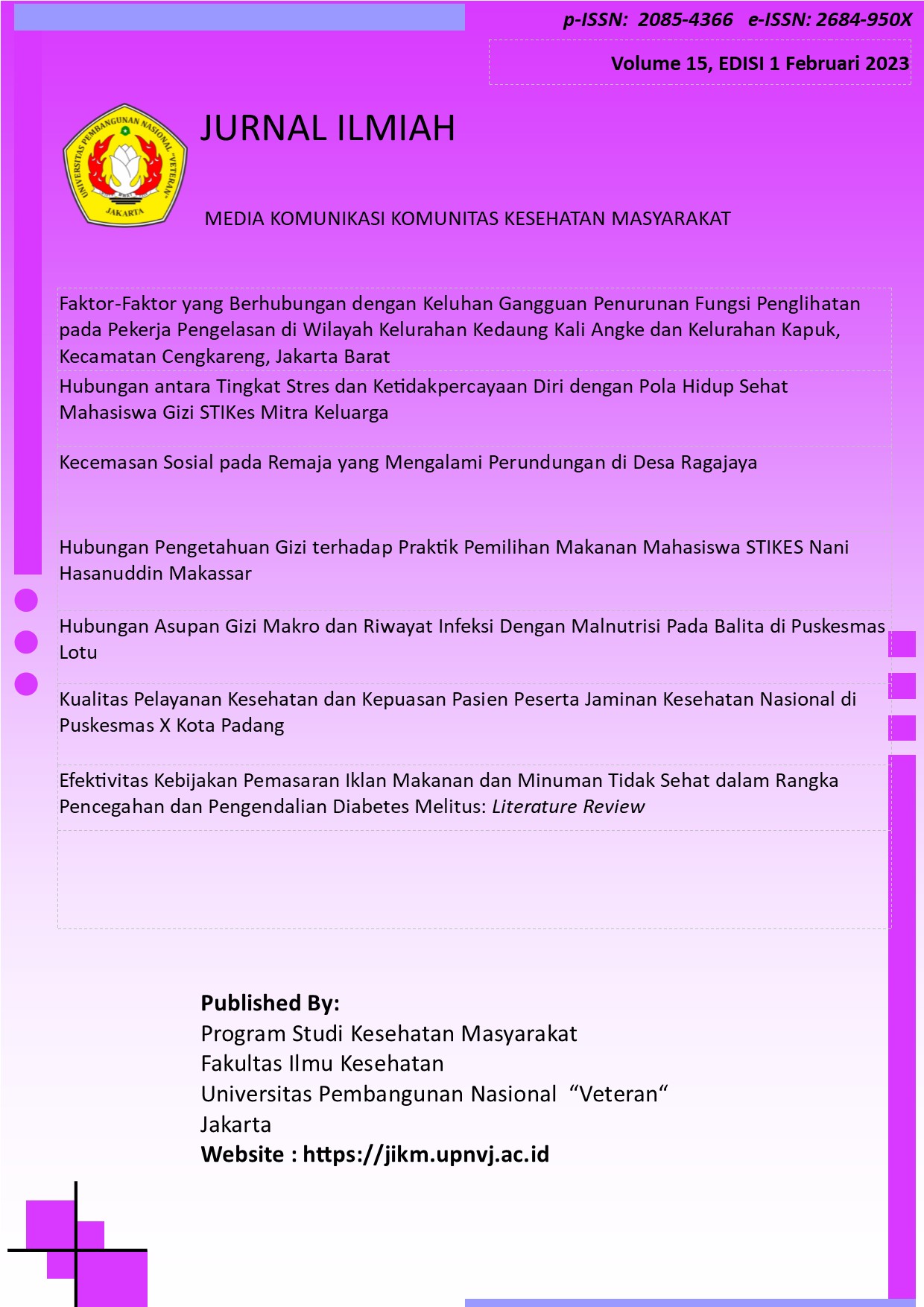 Copyright (c) 2023 Evin Novianti, Insyafiatul Aminah, Duma Lumban Tobing
This work is licensed under a Creative Commons Attribution-NonCommercial-ShareAlike 4.0 International License.
Authors who publish with this Journal agree to the following terms: (Download Copyright Notice)
1. Author retains copyright and grants the journal right of first publication with the work simultaneously licensed under a creative commons attribution license that allows others to share the work within an acknowledgment of the work's authorship and initial publication of this journal.
2. Authors are able to enter into a separate, additional contractual arrangement for the non-exclusive distribution of the journal's published version of the work (e.g. acknowledgment of its initial publication in this journal).
3. Authors are permitted and encouraged to post their work online (e.g. in institutional repositories or on their websites) prior to and during the submission process, as it can lead to productive exchanges, as well as earlier and greater citation of published works.
4. User/public use of this website will be licensed to Creative Commons Attribution-ShareALike 4.0 International (CC BY-SA 4.0) License.