Analisis Sistem Rujukan Kebidanan Pada Masa Pandemi Covid-19 Di Sentra Layanan Kesehatan Kota Tasikmalaya
RR Ratuingrum Anggorodiputro

Program Studi Magister Ilmu Kebidanan, Fakultas Kedokteran, Universitas Padjadjaran
Keywords:
Sistem rujukan, Kebidanan, Pandemi Covid-19, Sentra layanan kesehatan, Referral system, Midwifery, Covid-19 pandemic, Health service center
Abstract
Abstrak
Latar Belakang: Pandemi Covid-19 yang terjadi di Indonesia, mempunyai dampak pada semua sektor, tidak terkecuali sistem rujukan kebidanan. Mengingat ibu hamil dan bayi merupakan kelompok rentan, dikhawatirkan adanya pandemi Covid-19 ini dapat menyebabkan adanya peningkatan morbiditas dan mortalitas ibu dan bayi baru lahir. Oleh sebabnya diperlukan suatu sistem rujukan yang efektif sehingga dapat meminimalisir tingkat morbiditas dan mortalitas ibu hamil dan bayi. Tujuan Penelitian untuk menganalisis sistem rujukan kebidanan di Kota Tasikmalaya.
Metode: Penelitian ini menggunaan desain penelitian kualitatif dengan Teknik diskusi kelompok terarah (focus group discussion/FGD) dilakukan dengan mengundang responden melalui link Zoom Meeting untuk mendapatkan gambaran, informasi, pendapat, praktik terkait sistem rujukan kebidanan pada masa pandemi Covid-19 berdasarkan perspektif (emik) narasumber (partisipan, informan) dalam bentuk kelompok yang memungkinkan adanya interaksi perspektif (emik) antar perorangan.
Hasil:  Sistem rujukan kebidanan di masa pandemi Covid-19 mengalami perubahan, yaitu disesuaikan dengan prosedur layanan kesehatan, baik untuk penderita positif Covid-19 maupun non-Covid19. Prosedur tersebut diantaranya berupa pemeriksaan/screening covid-19 dengan testing, tracing dan treatment, serta mobil layanan kesehatan dari Rumah Sakit Umum Daerah. Perbedaan lainnya, di masa pandemi Covid-19 pemerintah daerah mengeluarkan layanan public safety center PSC 119 Sigesit sebagai salah satu penunjang sistem rujukan di Kota Tasikmalaya.
Kesimpulan: Agar pelayanan kesehatan ibu dan anak (KIA) berjalan dengan baik, sinergi, kolaborasi, dan dukungan harus terus ditingkatkan, terutama sarana prasarana dan dukungan dari pemerintah daerah.
Kata Kunci: Sistem Rujukan, Kebidanan, Pandemi Covid-19, Sentra Layanan Kesehatan.
 Abstract
Background: The Covid-19 pandemic that occurred in Indonesia had an impact on all sectors, including the midwifery referral system. Considering that pregnant women and babies are a vulnerable group, it is feared that the Covid-19 pandemic could cause an increase in maternal and newborn morbidity and mortality. Therefore we need an effective referral system so as to minimize the level of morbidity and mortality of pregnant women and infants. The aim of the study was to analyze the midwifery referral system in the City of Tasikmalaya.
Methods: This study uses a qualitative research design with a focus group discussion (FGD) technique carried out by inviting respondents through the Zoom Meeting link to get an overview, information, opinion, practice related to the midwifery referral system during the Covid-19 pandemic based on perspective ( emic) resource persons (participants, informants) in the form of groups that allow the interaction of perspectives (emic) between individuals.
Results: The midwifery referral system during the Covid-19 pandemic underwent a change, which was adjusted to health service procedures, both for positive Covid-19 and non-Covid19 sufferers. These procedures include checking/screening for COVID-19 with testing, tracing and treatment, as well as a health service car from the Regional General Hospital. Another difference is that during the Covid-19 pandemic, the local government issued the PSC 119 Sigesit public safety center service as one of the supporting referral systems in the City of Tasikmalaya.
Conclusion; In order for maternal and child health services (KIA) to run well, synergy, collaboration, and support must continue to be improved, especially infrastructure facilities and support from local governments.
Keywords: Referral System, Midwifery, Covid-19 Pandemic, Health Service Center.
References
Direktorat Kesehatan Keluarga. Pedoman Bagi Ibu Hamil, Ibu Nifas, dan Bayi Baru Lahir Di Era Pandemi Covid-19. 2020;9–12.
Tirtaningrum DA, Sriatmi A SA. Analisis Response Time Penatalaksanaan Rujukan Kegawatdaruratan Obstetri. Obstet Matern. 2018;14(2):139–.
Zaenab SN. Sistem Rujukan dan Pengembangan Manual Rujukan KIA. 2021. P. 1–17.
Kemenkes RI. Kebijakan pengaturan layanan primer dan sistem rujukan di masa pandemi covid-19. In: Internatioanl Day of the Midwife. Direktorat pelayanan kesehatan rujukan direktorat jenderal pelayanan kesehatan kementerian kesehatan rI; 2020.
Murti ani, Ninik Azizah VER. Pengantar Kebidanan. Karim A, editor. Yayasan Kita Menulis; 2021.
Jihan Adani, Putri Permatasari, Rafiah Maharani Pulungan MES. Faktor-Faktor yang Berhubungan dengan Kepatuhan Pembayaran Iuran JKN pada Peserta Mandiri di Kota Depok Tahun 2019. J Ilm Kesehat Masy. 2019;11(4):287–95.
Kementerian Kesehatan Republik Indonesia. Buku Ajar Kesehatan Ibu dan Anak. Departemen Kesehatan Republik Indonesia. 2015.
Saryono. Metodologi Penelitian Kualitatif Dalam Bidang Kesehatan. Yogyakarta: Nuha Medika; 2010.
Deni KS. Metode Penelitian Kualitatif MKWU 2019. In: Metode Penelitian - Mata Kuliah Wajib Umum Fakultas Kedokteran Univeristas Padjadjaran. Universitas Padjadjaran; 2020.
Sugiyono. Metode Penelitian Kuantitatif, Kualitatif dan R&D. Bandung: Alfabeta; 2016.
Dinas Kesehatan Provinsi Jawa Barat. Profil Kesehatan Jawa Barat Tahun 2019. Bandung: Dinas Kesehatan Provinsi Jawa Barat; 2019.
Kementerian Kesehatan Republik Indonesia. Sistem Penanggulangan Gawat Darurat Terpadu. 2016. 1–18 p.
Kelompok Kerja Pelayanan Rujukan Ibu dan Anak Kabupaten Kulon Progo. Manual Rujukan Kehamilan, Persalinan Dan Bayi Baru Lahir. In Kulon Progo; 2012.
Kemenkes RI. Pedoman Sistem Rujukan Nasional. Jakarta: Direktorat Jenderal Bina Upaya Kesehatan Kementerian Kesehatan RI; 2012.
Syafa'at A, Al W et. Pemanfaatan Prolanis di Fasilitas Kesehatan Tingkat Pertama Wilayah Kota Depok. Media Kesehat Indones [Internet]. 2019;18(4):1–8. Available from: https://doi.org/10.14710/mkmi.18.4.127-134
Kemenkes RI. Pedoman Sistem Rujukan Nasiona. Jakarta: Direktorat Jenderal Bina Upaya Kesehatan Kementerian Kesehatan RI; 2012.
Zaenab SN. Sistem Rujukan dan Pengembangan Manual Rujukan KIA. 2021. 1–17 p.
Kemenkes. Undang-undang republik indonesia nomor 4 tahun 2019 tentang kebidanan. 2019.
Permatasari P at al. Sistem Perencanaan Logistik Obat Di Puskesmas. Wind Heal J Kesehat [Internet]. 2020;3(3):193–201. Available from: http://jurnal.fkmumi.ac.id/index.php/woh/article/view/woh3302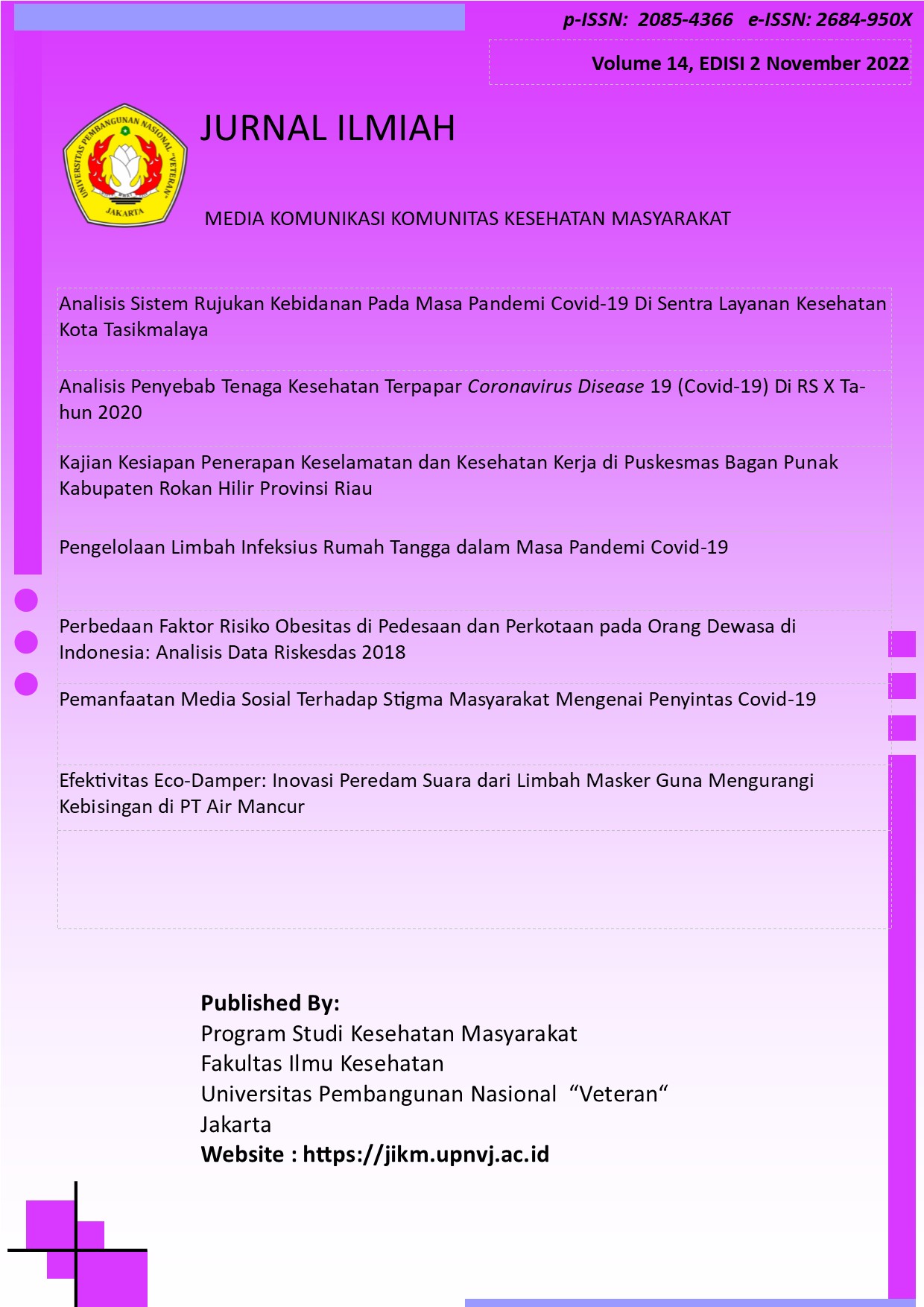 Copyright (c) 2022 RR Ratuingrum Anggorodiputro
This work is licensed under a Creative Commons Attribution-NonCommercial-ShareAlike 4.0 International License.
Authors who publish with this Journal agree to the following terms: (Download Copyright Notice)
1. Author retains copyright and grants the journal right of first publication with the work simultaneously licensed under a creative commons attribution license that allows others to share the work within an acknowledgment of the work's authorship and initial publication of this journal.
2. Authors are able to enter into a separate, additional contractual arrangement for the non-exclusive distribution of the journal's published version of the work (e.g. acknowledgment of its initial publication in this journal).
3. Authors are permitted and encouraged to post their work online (e.g. in institutional repositories or on their websites) prior to and during the submission process, as it can lead to productive exchanges, as well as earlier and greater citation of published works.
4. User/public use of this website will be licensed to Creative Commons Attribution-ShareALike 4.0 International (CC BY-SA 4.0) License.